Introducing the all new
Car Mirroring.
What you see on your Smartphone is what you see on your Car Display Panel
Learn more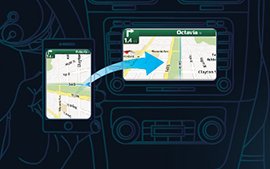 Car Mirroring Overview
The Car WiFi Mira Box is a revolutionary new product designed to display a mirror image of your compatible Smart Phone screen onto the display of your car head unit, including audio and video transfer via the AV input of the car head unit.
This is a universal product and will provide a Mirror Link connection to any car head unit with an Audio/Video input.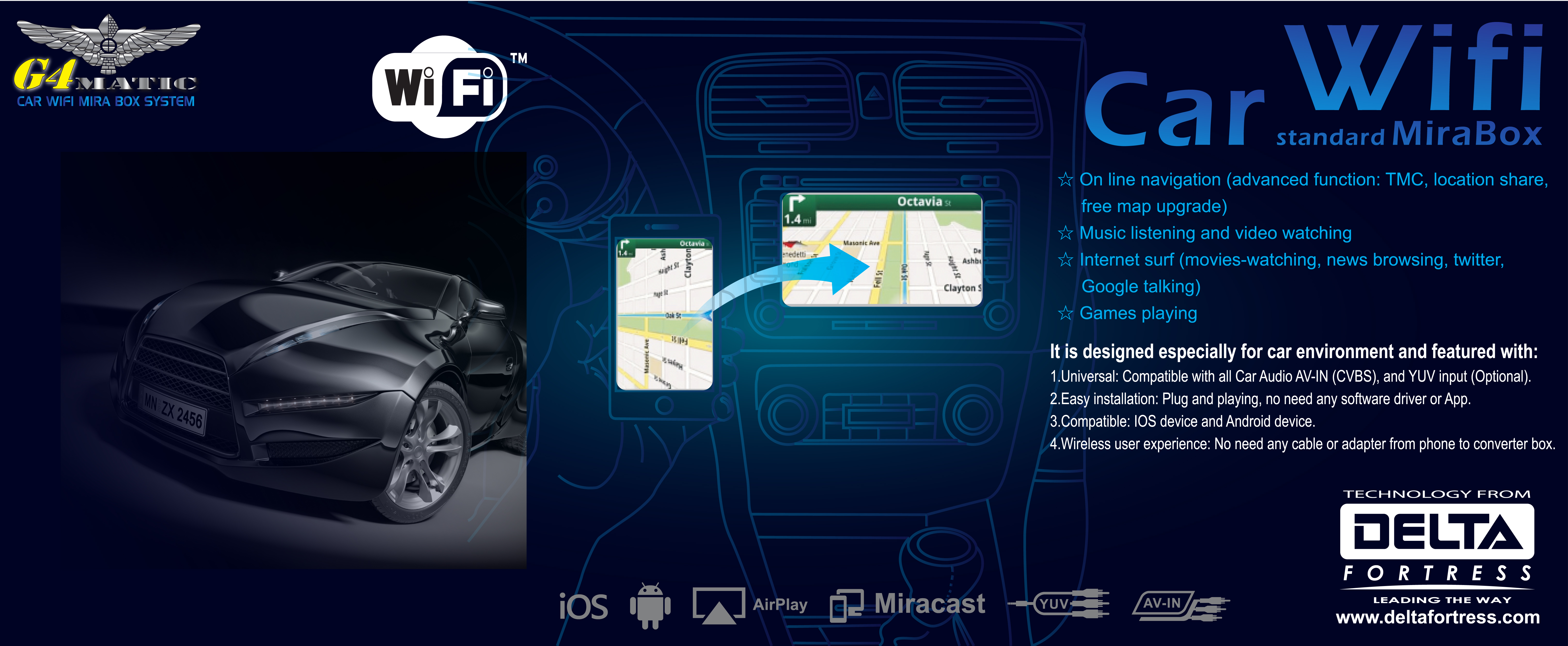 Why Car Mirroring?
Smartphones have given access to a growing number of indispensable applications anytime and anywhere. But when it comes to driving, smartphone use is ill-advised. And even the most advanced infotainment systems cannot match the breadth of functionality in even the most ordinary smartphones.

Car WiFi Mira Box solves this problem by offering seamless connectivity between a smartphone and the car infotainment system.

In other words, by allowing consumers to access their smartphone in the same way they access their car radio and other controls, Car WiFi Mira Box lets drivers keep their eyes on the road and hands on the wheel.
How it works?
Drivers just connect the phone with wireless and immediately gain access to phone applications via the car's navigation screen and dashboard/steering-wheel buttons.
Car Mirroring Technologies
Car WiFi Mira Box is based on a set of well established, non-proprietary technologies. It uses standard Internet technologies (such as Internet Protocol) for compatibility with a wide range of devices.

It also uses technologies already common in the car, such as Bluetooth™ and USB, and newly-introduced car technologies such as Wi-Fi as well. Universal Plug and Play (UPnP™) facilitates controlled access to applications. Virtual Network Computing (VNC™) replicates the phone's display on the navigation screen and communicates user prompts back to the phone.

In addition to Bluetooth™, Car WiFi Mira Box streams audio with Real-Time Protocol (RTP).
Car Mirroring Daily Usage
All audio/video displayed on the phone are transferred wirelessly through a Wi-Fi connection between the phone and the Wireless Mirror Link interface. Your entire music library, stored photos or images can be played through the cars display/speakers.

All Apps can be viewed on the car screen, including navigation Apps or Google Maps. Audio/Video Apps such as Sound Cloud, Spotify or YouTube can streamed wirelessly using the mira box interface.

The App image is displayed on the screen, whilst the App sound is played back through the car speakers. Any App can be accessed, from Twitter to Facebook or even games.

All Apps are still controlled from the phones.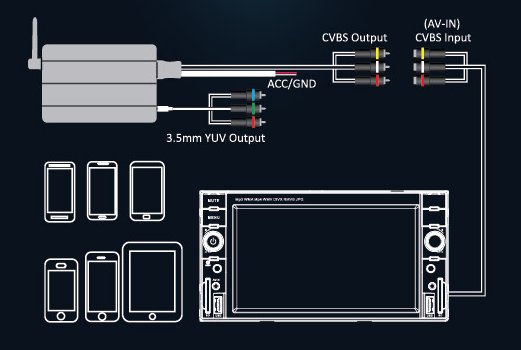 Car Mirroring
Features:

Stream music from your phone wireless
Stream videos/pictures from your phone to be displayed on the car screen
Mirror Link connection can display the original phone menu and Apps such as navigation on the cars screen including audio
Connect via the AV input of your car head unit
---
Sensor Kit Includes
Digital Display Panel
4 Highly Sensitive Ribbon Radar Sensor
Full Set Wires
Drill bit
User Manual Guide